Dental Implants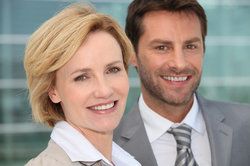 Dr. Alexandra Stahle is committed to providing patients who suffer from missing teeth with the latest and most advanced dental care. For this reason, she works with a local oral surgeon and periodontist to provide dental implants at her Beverly Hills practice. These titanium posts are permanently fixed in your jawbone, providing a stable base for a range of restorations. Although she does not place implants, Dr. Stahle can help facilitate the entire process, and place your custom-crafted restoration at our office. Whether you are missing one tooth or all of your teeth, contact Smiles of Beverly Hills today to learn how dental implants can benefit you.
What is a Dental Implant?
A dental implant is a biocompatible titanium post. Once the post has been surgically inserted in your jawbone, your bone and gum tissues heal around it, and the implant becomes a permanent part of your oral structure. Implants can support a range of dental restorations, including a single crown, a bridge, or a denture. If you are receiving a larger restoration, you will typically have two or more implant posts placed at once.
The Procedure
Dr. Stahle offers comprehensive pre- and post-operative care for dental implants. After determining that implants are a good option for you, she will refer you to a trusted local specialist. During your surgery, which is typically performed using local anesthesia, the doctor will create an incision in your gums. Then the doctor will insert the implant post into a tiny hole in your jawbone. The healing process typically takes about three months. During this time, your hard and soft tissues will heal around the implant post, allowing it to function like a natural tooth root.
Determining Your Candidacy
If you are missing one or more teeth and you want to enjoy increased security and functionality for your restoration, you may be a candidate for dental implants. However, the final determination will depend on several factors:
Your oral health: To be considered a good candidate for implants, your mouth must be free from bacteria and decay. If you have gum disease or an untreated cavity, Dr. Stahle will need to first address these conditions before you can receive implants.
Your jawbone structure: You must have a strong and dense enough jawbone to support one or more implant posts. If you have diminished bone density due to tooth loss or another factor, the specialist may recommend a bone grafting procedure. By using your own bone or another material, the specialist can build up your jaw to create a strong base for your implant posts.
Implant-supported Restorations
After the specialist has placed the dental implants and you have fully healed, you will return to our office so Dr. Stahle can place your dental prosthetic. She can also provide an immediate temporary restoration to wear as your gums heal. This is part of the collaborative effort with the specialist, and you will discuss this option at your initial consultation. Regardless of which type of restoration you choose, it will be beautifully crafted and custom-designed to complement your appearance. Dr. Stahle typically offers restorations made from advanced e.max® porcelain or zirconia, both of which provide incredible durability and a lifelike sheen.
Learn More During a Consultation
When it comes to replacing missing teeth, you naturally want the most stable and durable treatment option available. Contact our office to learn more about dental implants and whether they are right for you.